Jan
12
Fri
Gifts & Giggles 4 Greysen

@ Morris Community Hall
Jan 12 @ 5:00 pm – 7:00 pm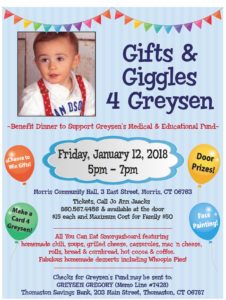 All you can eat Smorgasbord featuring homemade chili, soups, grilled cheese, casseroles, mac 'n cheese, rolls, bread & cornbread, hot cocoa & coffee.  Fabulous homemade desserts including Whoopee Pies!  All proceeds benefit Greysen's Fund for his medical and educational needs.
Jan
13
Sat
Greysen's Bake Sale at Stop & Shop-Litchfield
Jan 13 @ 11:00 am – 4:00 pm
Rose Buckens and Jo Ann Jaacks will hold a bake sale at Stop & Shop in Litchfield on Saturday, January 13, from 11a.m. to 4p.m.  as part of our fundraising for Greysen Gregory, a two-year-old boy who is battling a rare kidney disease.  Baked items of all kinds are gratefully accepted, and we hope everyone who lives locally  will stop by to purchase something yummy!