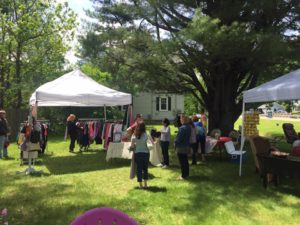 On Saturday, September 9 from 10am-12noon, shop owner Rebecca will welcome a Little Free Library pop-up visit.  The visit will coincide with an After-Labor Day-Tent Sale and there will be specially priced clothing items as well.  Owner Rebecca notes that "Lots of fun transitional and Fall pieces are coming in daily, and there will be great bargains under the tent."
A vintage dollhouse and a red Radio Flyer wagon stocked with free books for adults and children will be stationed in front of the boutique from 10am to 12pm.  Rose Buckens and Jo Ann Jaacks of Little Free Library at StoneHill, who are currently building and "planting" 32 lending library boxes in the Litchfield Hills, will also offer children's activities including make-your-own-bookmark and the opportunity to paint a stone as part of the Art Abandonment project.
Pictured is last year's tent sale at Rebecca Christine's Boutique, which is directly across the street from The White Horse Pub at 255 New Milford Turnpike, New Preston, CT.  For details about Little Free Library, the contacts are 203-770-4156 or rosebuckensdesigns@yahoo.com.